Are you looking for a career with a competitive salary, room to grow your skill set, and the ability to take pride in your creations? Then consider a career in construction! With an expansive field that is always burgeoning due to the ever-changing building needs of society, there are many reasons why individuals interested in hands-on work should consider taking the plunge into this dynamic industry. From workplace safety initiatives to specialized certifications and opportunities for advancement, those who break ground in this field can look forward to developing their skills afresh and boosting their personal portfolios. In this blog post, we will explore some of the major benefits associated with careers within construction fields.
Explore the Benefits of a Construction Career
Construction is a field that offers not only great job security but also lucrative salaries. Compared to other careers in the industry, construction workers have a relatively low unemployment rate and are highly skilled professionals. As the demand for new buildings and infrastructure projects continues to grow, construction workers can expect a steady stream of job opportunities. The average salary for a construction manager, for example, is around $95,000 per year. The field also offers a range of specializations, from carpentry to civil engineering, giving workers the chance to find their own niche. With the promise of stable employment and excellent salaries, it is no wonder that many people are choosing construction as a career path.
Uncover the Possibilities
From onsite jobs like carpentry, masonry, and plumbing to offsite roles such as engineering, project management, and drafting, the possibilities are endless. If you enjoy working with your hands and crave a sense of accomplishment, a construction career might be perfect for you. With opportunities to work in both residential and commercial settings, you can specialize in specific areas and develop a niche skillset. Take the first step in uncovering the possibilities and explore the various types of construction jobs available today.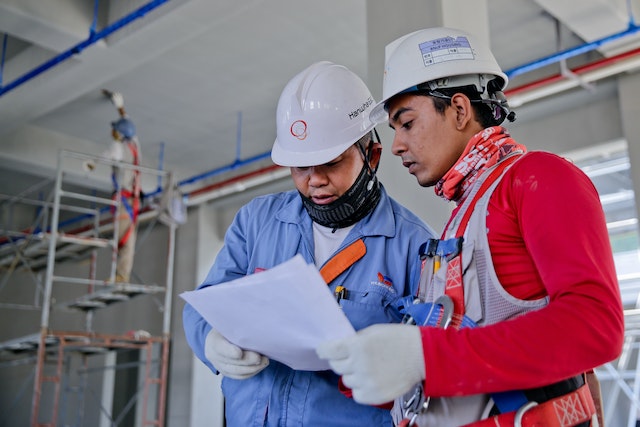 Understand the Necessary Skills
For those interested in pursuing a career in construction, it is important to understand the necessary skills and requirements to get started in the industry. One option is to attend a trade school or obtain a certification, which can provide the foundational knowledge and practical skills needed to succeed. Another way is to complete a construction training program, which can offer a more comprehensive education and specialized training. To foster a strong start in the construction industry, there are entry-level courses that ensure newcomers gain a strong understanding of basic construction principles, safety protocols, and equipment handling techniques. While some construction jobs may only require a high school diploma, specialized training can often increase your chances of landing a job and advancing within your field. It is especially important to consider the type of construction work you want to pursue, as different jobs may require different certifications or licenses. By researching your options and investing in the right education and training, you can build a successful career in construction.
Make Connections
Networking is a powerful tool in the construction industry, providing opportunities to learn from seasoned professionals and create connections that could lead to future job prospects. Trade associations, unions, and professional networking events can offer a wealth of opportunities to meet and interact with others in the industry. By engaging in these networks, you can gain invaluable insights into the industry's expectations, emerging trends, and opportunities for advancement. This active involvement can also increase your visibility within the sector, enhancing your reputation and establishing you as a committed, passionate professional. Whether through online communities or in-person events, making connections is essential for anyone looking to thrive in a construction career.
Embrace the Satisfaction of Building
In construction, you have the unique opportunity to see the fruits of your labor in a tangible and lasting way. There is a deep sense of satisfaction in watching a project progress from an idea on paper to a physical structure. Whether it's a residential home, commercial building, or a vital piece of infrastructure, your work contributes to the fabric of the community. This sense of accomplishment and pride in your work is one of the many rewarding aspects of a career in construction. Each completed project stands as a testament to your skills, diligence, and hard work.
A career in construction is more than just a job – it's a path to personal fulfillment and professional growth. This rewarding field offers competitive salaries, diverse opportunities, and the chance to make a tangible difference in the world. From gaining specialized skills to building valuable connections, the benefits of a career in construction are numerous and diverse. If you have a passion for hands-on work and a desire to create lasting structures, this might be the perfect career for you. Invest in your future today and build a career that you can be proud of.