Are you looking for ways to make the most of your basement space? Maybe you want to create a comfortable living area, or a home office — whatever your reasons, transforming an unused basement into a vibrant and liveable space can be achievable with some planning and effort.
In this essential guide, we'll explore how to make your basement more liveable by providing step-by-step advice on everything from designing the layout to installing lighting fixtures. With practical ideas tailored for homeowners on any budget, you'll be able to determine which renovations are necessary while also having fun throughout the process!
Identify your needs
The basement can be a blank canvas for your home, with endless possibilities for utilization. To make the most of this valuable space, the first step is to identify your needs and decide how you plan to use it. Will it be a cozy family room for movie nights and relaxation, or will you transform it into a home gym? Perhaps it will serve as a guest room or even a home office.
Once you have determined the purpose, the next step is to ensure that you have the right furniture to make it both comfortable and functional for your needs. Whether it's a comfortable sectional for lounging or a sturdy desk for working, your furniture choices will play a key role in creating a space that meets your needs and exceeds your expectations.
Get the help of an experienced contractor
Basement renovation can be an exciting venture, yet it requires the help of an experienced contractor. Hiring an expert contractor ensures that your project is completed on time, within your budget, and to your satisfaction.
A professional contractor has the necessary knowledge and skills to handle any unforeseen problems that might arise during the renovation process. An experienced contractor will also come up with innovative ideas that will bring your vision to reality. The result of hiring an expert contractor is a beautiful and functional space that you can enjoy for years to come. So, if you're planning on renovating your basement, make sure you turn to a reliable contractor for the best results. You don't want to cut corners and end up with a subpar living space.
Insulate the walls and floors
Basements can tend to be cold and damp, making it crucial to properly insulate the walls and floors. This will regulate the temperature and keep your basement warm during colder months. Insulation also aims to reduce noise levels from outside, creating a more peaceful living environment.
When insulating your walls, consider using foam or rigid insulation boards as they provide better insulation compared to fiberglass batts. When it comes to floors, consider using a subfloor system that creates an air gap between the concrete and your flooring material. Aside from adding extra warmth, it also prevents moisture from seeping through.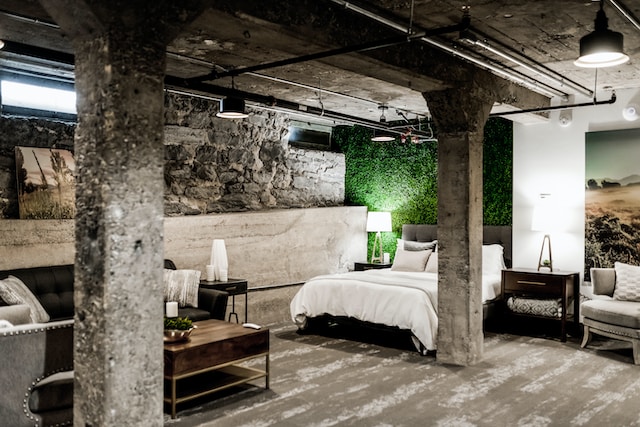 Install flooring and lighting fixtures
Choosing the right flooring for your basement can be tricky, as this area is prone to moisture. Opt for materials that are durable and resistant to water damage, such as ceramic tiles or vinyl planks with waterproof backing. If you prefer a more comfortable feel underfoot, consider adding an area rug.
Lighting is another crucial aspect of making your basement more liveable. Natural light may be limited, so it's important to install adequate lighting fixtures that will brighten up the space. Consider using recessed lighting or track lights for a modern and sleek look. You can also incorporate table lamps or floor lamps for additional lighting and ambiance.
Ventilation
As summer temperatures rise, the basement can quickly become a hot and humid space, leaving you feeling uncomfortable and sticky. However, installing a fan or air conditioner can transform your basement into a refreshing oasis, perfect for escaping the summer heat.
Proper ventilation regulates the temperature, yet it can also prevent mold and mildew growth, which can be especially damaging to your health. So, don't let the basement become a dreaded hot spot in your home. Invest in a reliable ventilation system and enjoy a cool and comfortable space year-round.
Decorate
Transform your basement from a dull and dreary space to a cozy and inviting retreat with some decorative touches. Adding accents like rugs, curtains, and wall art can breathe life into your basement, making it feel more like a part of your home.
Play around with different textures, colors, and patterns to create a cohesive look that matches your personal style. Throw in some mood lighting and comfy seating, and you'll have the perfect spot for relaxation and entertainment. With a little creativity and effort, you can turn your basement into a space that you'll love spending time in.
Transforming your basement into a liveable and enjoyable space is indeed a worthwhile endeavor. The goal is to create a space that meets your needs, provides comfort, and reflects your personal style. With the right planning, a reputable contractor, and a dash of creativity, you can turn your previously underutilized basement into a vibrant extension of your home. Whether you dream of a cozy family room, a home office, or a personal gym, you are well on your way to realizing your dream basement renovation.