You've finally found your dream home and you're beyond ecstatic. But while you're caught up in the whirlwind of planning your house move, you soon realize that you've got lots of art and antiques that are enough to fill an entire museum!
You can't just leave your prized possessions behind. Sadly, fine antiques and art are some of the trickiest and most challenging items to pack and protect during a house move. Aside from their high-value and extremely fragile nature, no two pieces of antique or art are the same, making it even more critical to handle them carefully.
Every piece has its unique and distinct history, from the time it was crafted to the repairs and restoration works it has gone through. Each piece also has its own set of obvious and hidden vulnerabilities that you need to consider to ensure a safe and successful move.
Whether you plan to work with professionals like Big Boy Movers or do it yourself, this guide will give you a quick overview of how to pack your precious art pieces and antiques when moving to your new home.
1. Create A List Of All Your Antiques And Artworks
Before you get too hyped up for your move and start packing every antique and artwork you see, you should create an inventory of all your pieces. This list will make it easier for you to identify the items that you can safely pack yourself and those that are best left to the hands of the experts.
Items that often require the help of professionals include heavy antique mirrors, large paintings, and highly valuable collectibles. Start your inventory with the largest pieces such as dining room tables and armoires. Take a photo of the pieces for record purposes. Measure every side of the items. These measurements will help you find custom crates. It'll also help you check if your large pieces will fit through the entryways of your new house.
Similarly, make sure you also photograph smaller antique pieces such as collectibles, silver, and jewelry. Take note of their imperfections, if there are any, before you move them into your new home.
2. Get Your Pieces Appraised And Insured
It's recommended to have your pieces appraised and insured before you pack them individually. Remember that art and antiques appreciate over time. Using their old appraisals might leave you caught in a bad situation because of a difference in value when something happens during your move.
You can also use this opportunity to ask your mover if you're using one and if they offer additional insurance. Many movers ensure items according to their weight, which is not necessarily suitable for antique pieces.
It's best to have each item insured individually. This will allow you to recover the full value of the piece if it gets damaged in any way during the process.
3. Prepare Your Packing Materials And Supplies
After you've finished preparing your inventory and appraised and insured each piece, you can now prepare the materials and supplies you'll need to pack your antique and art pieces.
Here are some of the basic things you'll need:
Corner Protectors: Corner protectors, as their name suggests, protect the corners of the frames from sustaining damage or damaging other items near them.
Glassine: Glassine is a type of thin paper that serves as a blemish-proof first layer on mirrors and artwork. This is a very fine paper that prevents oil transfer from water damage and handling.
Telescoping Boxes or Picture Boxes (Cardboard): These boxes protect large paintings, framed artwork, and mirrors. Picture boxes differ from your usual moving boxes because they are adjustable, flat, and large. These qualities make them the perfect choice to protect your precious items.
Microfiber Cloth: A microfiber cloth can be used to clean each piece before wrapping it. Cleaning the pieces will also ensure that the wrapping stays tightly on them.
Packing Peanuts: Also known as foam peanuts, foam popcorn, or parking noodles, packing peanuts are loose fill cushioning and packaging materials that protect fragile items from damage during shipping.
Packing Tape: Make sure you look for heavy-duty tape. This will ensure that none of your boxes will open during transport.
Permanent Black Marker: Use a permanent black marker to label each box properly. Indicate the contents of each box and mark it as 'Fragile'.
Small Moving Boxes: If you're getting used boxes instead of new ones, don't forget to check if these are still in good shape. But if you have new ones, you're good to go.

Make sure you get lots of packing supplies to protect your items properly. To save money, buy in bulk or look for stores that offer discounts. If you're working with local movers, ask them if they provide the necessary packing materials for your needs.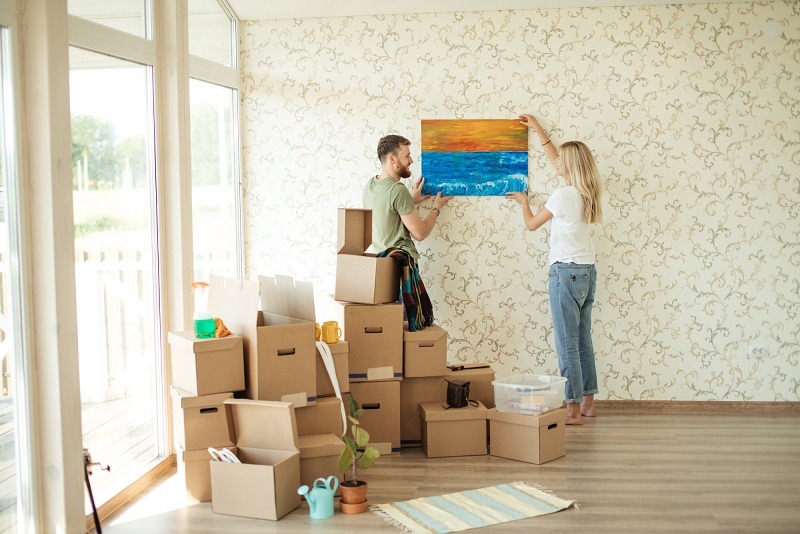 4. Plan Things In Advance
Ask any art handler, gallerist, or artist, and they'll surely agree that moving art and antiques can be nerve-wracking and tedious. You need to consider a lot of things before your big move. Is the piece fragile? Does it have an awkward size or multiple panels? How about the packing materials you'll need? These factors can make a big difference when it's finally time to transport your pieces from your old house to your new home safe, sound, and intact.
With all these concerns, it's better to start planning how to pack your items as soon as you can before your house move. Doing so will give you enough time to prepare your pieces accordingly. You must allocate enough time for research and planning like measuring your pieces and asking for quotes from several moving companies.
Make sure you also set a date for your move that best works for your schedule and items. And just like anything else, see to it you also plan for the unexpected.
5. Use Suitable Packing Methods
Art pieces and fine antiques should and can never be packed using the same method you use to pack your everyday household items. Before you pack your antiques and artwork, don't forget to clean them and remove any debris or dirt on the surface that might damage their surfaces during transit.
Ensure your art pieces are properly secured inside their frames without any loose parts. Wrap each artwork on paper first to prevent the buildup of condensation that might damage the piece. You can then wrap it again with polyethylene or Mylar for additional protection.
See to it that the packaging doesn't touch the painting itself. Remember that some types of packaging such as bubble wrap may cause damage to your pieces. You can use a shadow box if the artwork isn't set deep enough in the frame. If the frame is no longer stable, you can remove and wrap the artwork separately.
You must also carefully choose every box you use to ship your antiques and art pieces. They should also be the correct size to prevent the items from shifting or tumbling during transit. You should also avoid putting several items in just a single box.
Avoid using tape when packing antiques as much as possible because it may harm or damage the piece's surface. You can also wrap them with soft cloths and blankets for added protection. You can also use foam pads to help prevent the rubbing of surfaces. Antique mirrors are also best stored upright as much as possible without any item sitting on top of them.
6. Label The Boxes Clearly
Put clear labels on every box when packing your items, complete with details about the contents inside. This will save you from opening each box to check if you got the right one once you reach your new house.
These labels will also help your movers identify which boxes require special care and attention during the move. You might also want to put a copy of the inventory list in every box to help you keep track of all the items you're moving. It'll also be useful if any damage occurs during transit and you must file insurance claims.
7. Consider The Weather
Even the smallest fluctuations in temperatures and climate can impact paintings, particularly during shipping. Don't forget to unwrap all pieces after arriving in your new house as soon as possible to prevent any unwanted damage from condensation buildup.
8. Measure All Entryways In Your New House Before The Move
It'll make a big difference if you ensure that your pieces will fit and pass comfortably through the doors and frames of your new house. Getting the measurements of all primary entryways and staircases, if there are any, will allow you to confirm if the pieces can squeeze through the space.
When you already know before your move that your pieces won't fit, you can arrange suitable storage options in advance. This will give you enough time to figure out what to do with all the items that won't fit in your new home.
9. Don't Disassemble Antique Furniture
Most antique furniture pieces have different construction methods and use all types of unique fasteners. Due to the intricacies of these pieces, it's best to leave them in their original state.
Trying to disassemble antique furniture won't just cause damage but also lower the overall value of the piece. To stay on the safe side, you might want to consult an antique furniture expert to save yourself from disappointment when something goes wrong.
10. Deal With Strange Curves And Shapes Properly
It's no secret that some artwork and antiques have these intricate curves and odd shapes. When packing them, ensure you work from the top down to keep the piece intact. Use rolled-in packing tape to wrap every joint before you put the piece inside a moving box.
Be extra careful with placing slightly heavy pieces on top because the bottom part of the box may sag over time. If you have bigger fragile pieces like antique cabinets with some freestanding sets of drawers, make sure you remove every drawer hardware.
You can also put the individual drawers into a different box for easier handling. It's often recommended to use the services of custom packers and movers if you have large art pieces or mirrors that require additional protection.
11. Keep The Pieces Protected During The Move
For smaller pieces, you can lay some bubble wrap on a flat surface before you lay out the item you plan to pack. Ensure that all surfaces are covered, including the back or rear part of the piece. Use tape afterward to anchor the wrap before you put the piece inside the moving box.
For multi-paneled pieces, mirrors, and large artworks, remove their frames first, which is best done with experts' help. Most of the time, these items are placed in custom crates for added protection.
If you're moving bigger or more fragile items, hiring professionals who can do the job is best. They'll help ensure that your pieces will be moved to your new house efficiently and quickly without sustaining any damage.
12. Check The Items After You Arrive
Once your art pieces and antiques have arrived in your new house, the next thing to do is to check them. Your job doesn't end just because the boxes arrived in your new home safe and sound. While the boxes themselves might look fine, you'll never know the condition of the items inside unless you check them carefully one by one.
Set aside some time after your move to unpack your items. Inspect for scratches or nicks that weren't there before the move. If you notice something wrong with the exterior boxes, crates, and even the pieces themselves, you can document them with photographs or videos. These can come in handy if you ever decide to file damage claims in the future.
Conclusion
House moves will never be easy and simple, but things can get more complicated if you have some precious valuables in the form of art and antiques. These pieces are irreplaceable and rare by their nature.
Investing money, time, and effort to protect every item can give you peace of mind knowing that your most cherished possessions will arrive safe and sound at your new house, whether moving to another town or just a few blocks away.