Choosing the perfect bed for your guest bedroom can be both an exciting and daunting task. The guest bedroom is often the place where you welcome friends, family, and other loved ones into your home, and the bed they sleep on plays a pivotal role in their overall comfort and experience. A carefully chosen bed not only provides a restful night's sleep for your guests, but it also reflects your personal style and attention to detail, adding to the warmth and welcoming atmosphere of your home.
If you're in the process of selecting the perfect bed for your guest bedroom, don't forget to complement it with a luxurious king-size duvet for ultimate comfort.
With myriad options available in terms of style, size, comfort, and price, it's crucial to consider your guests' needs and preferences, as well as the aesthetics and dimensions of your room, to ensure the bed you select creates a truly inviting and comfortable space.
Consider the Size of the Room and the Bed
The first factor to consider when selecting a bed for your guest room is the size of the room and the bed itself. A room with limited space might not accommodate a king-sized bed, while a larger room might make a single bed look out of place. It's essential to measure your room and ensure there is enough space for the bed and other essential furniture.
The bed's size also influences the comfort of your guests — a couple might appreciate a double or queen-sized bed, whereas a single bed could be sufficient for a lone visitor. Remember, the goal is to create a harmonious balance between the size of the room and the bed, thus ensuring both comfort and aesthetics. A lot of beds come in standard sizes, but you can also find custom-made beds that fit any room size. If you're looking for something truly unique and tailor-made, consider a bespoke bed frame crafted to your exact specifications — it will provide the perfect fit and add an extra layer of sophistication to your guest bedroom.
Pick From The Right Store
Once you've determined the size of the bed that's suitable for your guest bedroom, it's time to select a store where you can find the perfect piece. Along with looking for a well-known brand, be sure to research customer reviews and assess how comfortable each bed is before making your purchase. You may want to look out for stores that offer discounts or promotions on beds; this can save you money in the long run and make the purchase more affordable. If you notice any issues during your purchase process, such as a bed arriving with missing parts or appearing to be damaged, contact the store immediately and seek a resolution.
The store you select should also be able to provide expert advice and assistance in helping you choose the perfect bed. A store with knowledgeable staff can guide you in selecting a bed that matches your requirements, taking into account factors such as comfort, support, and durability. Additionally, they may be able to recommend beds that feature specific features or materials for those who have allergies or special needs. Being able to consult with an expert can help put your mind at ease and guarantee that you make the best choice for your guest bedroom.
Consider Comfort, Support, and Durability
Comfort is the most important factor when it comes to selecting a bed for your guest bedroom. Don't skimp on quality — look for beds made of high-quality materials such as memory foam, latex, and cotton. Memory foam is especially popular for its contouring capabilities that support the body's natural shape and provide pressure-relieving comfort.
Additionally, beds with pocketed coil systems can help reduce motion transfer across partners or sleepers. Durability should also be taken into account when selecting a bed, as it will determine how long the bed will last. Low-quality materials can result in sagging, and you don't want to put your guests through the discomfort of a lumpy mattress. Always check the manufacturer's warranty on beds before making your purchase — look for warranties that cover defects or damage over an extended period of time, such as 10 years.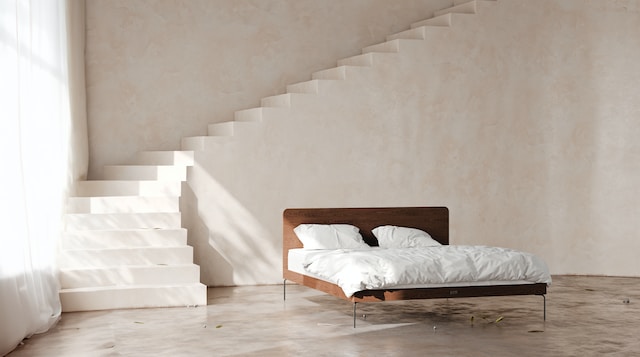 Think About Bed Frames and Headboards
The bed frame and headboard are other important aspects to consider when choosing the perfect bed for your guest bedroom. These elements add to the overall look of the bed and can significantly impact the aesthetic of the room. The bed frame you choose should be sturdy and complement the style of your home. For instance, a metal bed frame with an antique finish could be perfect for a vintage-style room, while a sleek wooden frame might suit a more modern aesthetic.
Headboards, on the other hand, are not just for show—they can provide practical comfort for your guests. Padded headboards, for example, are great for guests who like to sit up and read or watch TV in bed. When choosing a headboard, consider both the material (wood, metal, upholstered, etc.) and the design (tufted, slatted, etc.) to ensure it aligns with the overall look and feel you desire for your guest room.
Don't Forget About Bedding Accessories
Finally, don't forget about the bedding accessories. When it comes to outfitting your guest bedroom, you'll want to provide plenty of comfortable and inviting bedding for your guests. Consider investing in quality items such as sheets, blankets, pillows, and mattress protectors that combine style and comfort. Soft fabrics such as cotton or linen are always a safe bet, and you may want to opt for neutral colors such as white, beige, or grey. Don't forget about the bedspread or duvet — it can add warmth and depth to your guest room while also providing an extra layer of comfort. Pick one that is lightweight, breathable, and easy to clean for convenience.
On the other hand, if you're looking for a unique and luxurious touch that will give your guest bedroom an extra wow factor, consider adding decorative accents such as cushions, throw blankets, or wall art. Use these pieces to create a cozy atmosphere that will leave your guests feeling relaxed and at home.
Conclusion
providing a comfortable and inviting guest bedroom requires careful consideration and planning. It's not simply about selecting a bed, but also about choosing the right size, considering the comfort and durability, selecting a matching bed frame and headboard, and investing in quality bedding accessories. Also, the store you choose to buy from plays a crucial role in ensuring you get the best quality and service. It's all about creating a space that reflects care and hospitality, making your guests feel truly welcome. Remember, a well-appointed guest bedroom can enhance your home's overall appeal and leave a lasting impression on your guests. Take the time to choose the perfect bed for your guest bedroom, and it will be sure to provide years of restful nights.