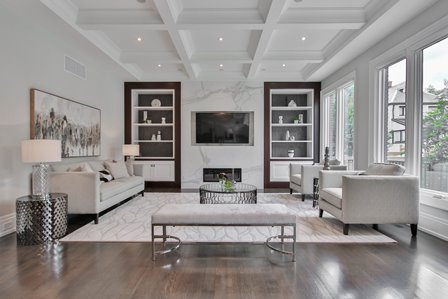 Anyone can improve their home with a little research and imagination. There are thrifty ways to surprise your kids, and strategies for upgrading your living room. You can make the latter pleasing to the eye, as well as practical and functional. In this article, we'll explore 6 must-have pieces that can transform the design of your living room.
1. Floating Cabinets
Because floating cabinets are mounted on the wall, they can maximize floor space. They'll make your room appear larger, which is perfect for small living rooms. They're ideal modern storage solutions and come in various sizes, styles, and finishes. You could choose a cabinet with open shelves to display your favorite decor pieces. Alternatively, select one with closed doors to hide and organize your clutter.
Floating cabinets can be customized, whether you want something modern and minimalist – or rustic and traditional. You can choose features like built-in lighting and adjustable shelving options, or incorporate them into a larger entertainment unit design. If you're interested in installing a floating cabinet, they can be made using sustainably resourced solid timbers. Specialist websites often display descriptions, dimensions, prices and photos.
2. Statement Lighting
A beautiful, eye-catching chandelier can become the focal point of the room and instantly elevate its overall design. Thanks to its cascading crystals, it can create an elegant and luxurious atmosphere. Floor lamps come in various styles and designs, so it should be easy to complement your existing decor. This applies whether you need a modern arc floor lamp or an ornate Tiffany-style lamp.
Pendant lights can be hung individually, or grouped together in clusters to create an interesting visual effect. Once again, they come in various shapes, sizes, and materials. If it has geometric shapes it can give your room a modern and contemporary feel. You may need task lighting for reading, or ambient lighting for creating an inviting atmosphere. If you install dimmer switches, you can vary the brightness according to your needs at any time.
3. A Rug
A rug can add warmth and comfort to the space, being soft underfoot, and protecting your wooden flooring. It can also serve as an anchor that ties all the furniture pieces together. A large rug (that covers most of the floor area) will create a cohesive look and make the room feel more inviting. For smaller rooms, use one or more rugs that are less big. Opt for durable materials like wool or synthetic blends because they can withstand heavy foot traffic and are easy to clean. Make sure you choose a pattern or color scheme that suits your existing furniture and decor.
If you center your rug under the coffee table, there should be enough space around it for all the seating to rest on top. Rugs can create visual balance and also define different zones within the room. You can also opt for layering rugs, to add depth and texture to your living room design. For instance, place a smaller accent rug on top of a larger neutral-colored one to create an interesting focal point. The beauty of rugs is that you can swap them out, and easily remove them for cleaning purposes.
4. A Sofa
You may prefer a classic leather sofa for a timeless look, or a modern sectional for maximum seating capacity. Whatever option you choose, investing in a high-quality sofa will elevate your living room's design. You should opt for plush cushions and soft upholstery materials like velvet or microfiber. These will ensure comfort while lounging or entertaining guests. Neutral tones (like beige or gray) are versatile options that can easily blend with different decor styles. To complete the look, accessorize your sofa with throw pillows. If they feature complementary colors and patterns, they'll add texture and visual interest.
Placing the sofa against a wall creates an open flow within the room. It also adds space for other decorative elements, such as side tables or floor lamps. Alternatively, position two sofas facing each other as this will create an intimate seating area that's ideal for conversations or family gatherings. Remember to measure your space accurately to ensure the proper placement of the sofa. You want to do this without overwhelming or overcrowding other furniture pieces in the room.
5. Accent Chairs
These can provide extra seating options for guests, in a way that provides style and personality. For a modern living room, choose minimalistic accent chairs with clean lines and neutral colors. In turn, they'll complement the contemporary vibe. If you're going for a more traditional look, however, choose ornate accent chairs. If they contain rich upholstery and intricate details, they'll add elegance and sophistication to the space.
Your accent chairs can be strategically placed near windows or in corners. They can be used to create cozy reading nooks or intimate conversation areas. Furthermore, they can be easily moved around when needed. This makes them versatile pieces of furniture that adapt to different occasions and social gatherings. Don't be afraid to mix different styles and textures. Experimenting with bold patterns or unique materials can make a statement in your space.
6. A Coffee Table
This can serve as a functional surface to place drinks, snacks, and books. Whether you opt for a traditional design or something more current, it can act as the centerpiece of your seating area. A larger living room can accommodate a bigger (rectangular or oval-shaped) table. In contrast, smaller spaces may benefit from round or square options that won't overpower the room. Wood is timeless and brings warmth to any decor style, while glass tables lend an airy and contemporary feel.
To make your coffee table even more functional, select one with drawers or shelves. This allows you to store items like remote controls, coasters, and magazines. Consider adding decorative elements such as candles or vases with fresh flowers.
These 6 essential items can turn your living room from good to great. If you choose wisely, they'll be pleasing to behold and practical to use. They'll enhance your daily experience, and be admired by anyone who comes to visit.