Just like cats, cat parents are absolutely difficult to impress. They're discerning folks who know what they want and will never accept anything except that.
If you're reading this, you're likely shopping for someone with a feline affinity who is having a hard time settling into a new home.
Cat lovers and parents can be finicky, but this period is for you to support them.
Shifting and settling in newer homes is a task, especially when they have to do it with the little kitty.
The entire period is unsettling, anxious and fearful for both the cat's parents and the cat.
The best you can do is give them the emotional and mental support they need.
Here are 5 heart-melting gifts for cat parents who have recently moved to a new house.
These gifts will definitely give them the much-needed appreciation that they deserve.
1. A Hand Painted Wall Piece of The Cat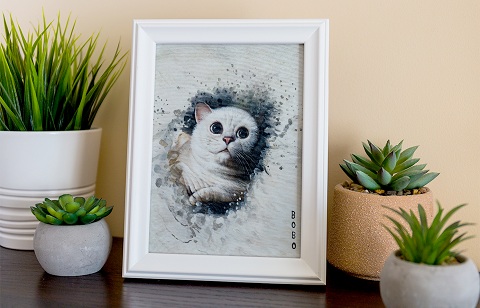 The most common gift given during housewarming parties are home décor items. Now, there are hundreds of pieces to choose from, but we want to give something thoughtful.
Our ultimate goal is to make our loved ones smile, and I am sure that a Cat Portrait Painting will do it for you.
They definitely love their cats the most, and nothing will make them feel special than a portrait of their cat.
It can be a great statement piece for their new walls.
If you have an eye for design, you can also get 3 paintings of the cat in contrast to the wall paintings to be hung together. It will add an accent of aesthetics to the walls.
It is one of the most thoughtful gifts, and the painting will always remind them of their feline friend.
A great wall piece and a wonderful memoir.
2. Cat Scratcher Lounge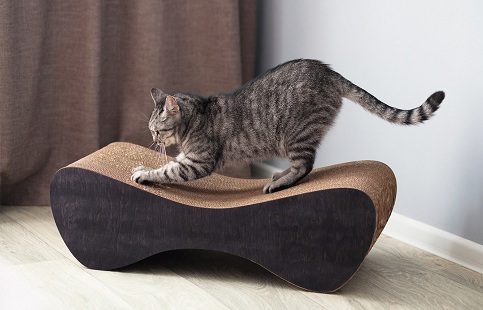 A combo cat scratcher and lounger is an interesting piece of architecture in addition to being a fun and functional accessory.
It is a carefully thought-out gift for your loved ones and will become their cat's favorite spot soon.
Its cardboard surface offers tons of space for a cat to file its nails and ample room to sprawl out in a sunspot.
It will definitely keep their nails of the parent's newly bought furniture.
The shape also evokes an infinity symbol that speaks about the never-ending love of the parents for their kitty baby. 
3. Cat Canopy Bed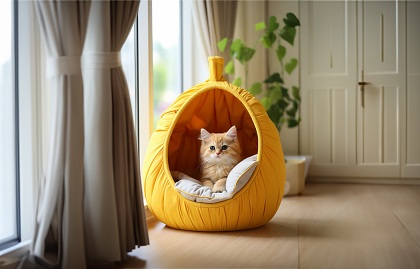 For all the anti-human cats who love their privacy and don't want to be bothered – a canopy is the best gift.
They serve as beautiful furniture, and their custom shades look very fascinating.
They can sleep in it and dream of tuna, mice, kneading and their beloved humans all day.
This is the best gift for both the cat's parents and the cat because this will make their baby feel at home.
Shifting to a new space can make cats anxious. They take time to adjust, and this cat canopy will make them feel safe.
Since it is closed from all sides, it will allow the cat to be vulnerable and hide. Give them some time, and they will be all good.
What can be a better gift for a cat parent than a happy and rested kitty cat?
4. Window Hammock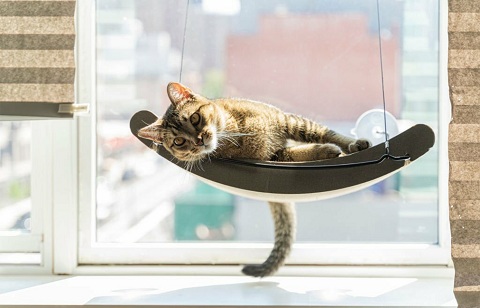 Talking about calming the cat down and making them as less anxious in the new space as possible, there's something else that you can gift.
A window hammock for the cat. It is easy to install, and the cat will spend most of its time there.
The window hammock helps the cat indulge in their most favourite activity – birdwatch and chill.
Give your loved ones kitty a safe space to sleep and a fun place to scope out the world with this housewarming gift.
It comes with a suction cup that can stick to any glass surface and take up to 10 kg of cat weight.
5. Wine Glass Cat Charms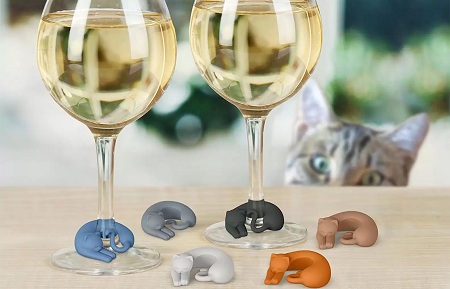 Wine glass cat charms are cat-shaped wine glass markers.
Housewarming parties mean there is going to be a lot of drinking.
With these charms, one can keep their paws off someone else's wine.
This is not only a great gift idea for cat lovers for a new home but also a wonderful hosting idea to make sure no one is sipping from the wrong glass – sober or tipsy.
They come in various colors and are shaped like little cats curled up.
This is going to be super sweet and will be a helpful housewarming gift for a friend, especially when they are ready to host one.
So, these were 5 amazing housewarming gifts for cat lovers. They will be useful and economical and definitely serve as a help to your loved ones.
Which one was your favorite?