Making any kind of home modifications for a wheelchair user can be a difficult task. Not only is it difficult and time-consuming, but the costs involved in making these necessary mods can add up quickly. If you're considering building, remodeling, or renovating your home to make it more accessible then this blog post will break down the associated costs for you! We'll also provide important tips to help keep your project within budget and strategies on how to find financial assistance if needed. Get ready – this guide has got everything you need to know about the cost of making a house wheelchair friendly.
Assess the current layout of your home
Making a home wheelchair accessible can be a daunting task, but it's an important one to ensure that everyone in the household can move around with ease and independence. Assessing the current layout of your home is the first step in determining what modifications may be necessary. It's worth considering everything from the width of doorways to the placement of light switches and electrical outlets. Depending on the extent of the changes required, it may be best to work with a professional contractor to help keep costs and stress levels under control.
Consider the cost of remodeling
Home renovations can be both exciting and daunting. While it's easy to envision your dream home, the cost of renovations can often derail plans. When considering remodeling or construction work, it's important to factor in the cost of modifications that will make your home more accessible. Widening doorways and installing ramps may not be the most glamorous renovations, but they can make a huge difference in the quality of life for those with disabilities or mobility issues. It's crucial to budget for these necessary modifications so that your home is not only beautiful but also functional and inclusive.
One essential financial resource to consider when planning for home renovations that enhance accessibility is the Disabled Facilities Grant (DFG). According to https://www.stiltzhealthcare.com/disabled-facilities-grant/, this grant is a crucial financial aid provided by local authorities to individuals with disabilities or mobility issues. It helps cover the cost of necessary modifications and adaptations in their homes, such as installing ramps, widening doorways, or adding accessible bathrooms. Applying for a DFG can significantly alleviate the financial burden associated with making your home more accessible, making it an invaluable resource for those in need. It's essential to research the eligibility criteria and application process in your area to ensure that you can take full advantage of this grant and make your home not only aesthetically pleasing but also truly accessible and inclusive.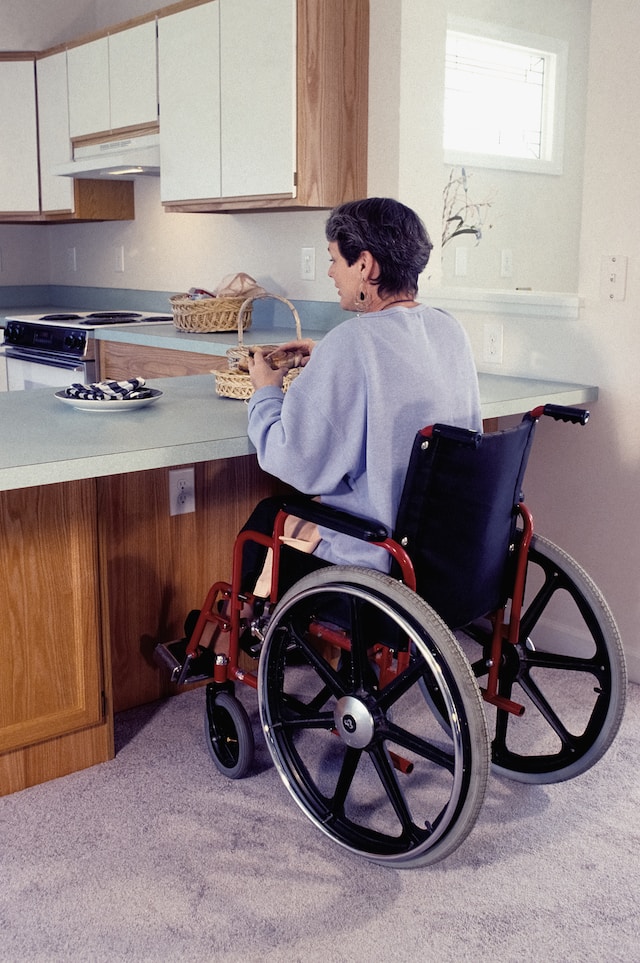 Research new furniture and accessories
Wheelchair users need furniture and accessories that provide maximum comfort and support. Fortunately, there are plenty of products designed specifically to meet the unique needs of people with mobility issues. Adjustable beds, for example, allow wheelchair users to customize the position and firmness of the mattress, helping to prevent pressure sores and improve circulation. Power lift chairs provide an extra level of assistance by helping users get in and out of a seated position, without any strain or effort. Other popular products include bedside tables, wheelchair ramps, and shower chairs. With so many options available, there's no reason why wheelchair users can't enjoy the same level of comfort and convenience as anyone else.
Look into financial assistance programs available
For those with disabilities and their caregivers, navigating the often complicated world of finances can be a challenge. However, there are a variety of financial assistance programs available from different organizations that can help make life a little easier. One such program is adaptive equipment grants, which can provide funding for necessary mobility devices or assistive technology. Additionally, disability tax credits may be available to those with qualifying conditions. While researching and applying for these programs can take time and effort, they can provide valuable support for those in need.
Decide which changes are essential
For wheelchair users, navigating around a home can be a challenge without proper modifications. When budgeting for home improvements, it's important to prioritize changes that will make the space more wheelchair friendly. Installing ramps or stair lifts can provide much-needed accessibility to multi-level homes. Widening doorways and removing carpeting or other flooring obstacles can make movement easier for wheelchair users. Adding grab bars and elevated toilet seats in bathrooms can also improve safety and independence.
Overall, making your house wheelchair accessible is a lengthy process that requires careful thought and planning. Pouring over the details and design will pay off with an improved environment where users can feel at ease and in control. In order to make this process as smooth as possible, it's important to consider all of the different aspects — from assessing the current layout to budgeting for new equipment. Moreover, research financial assistance programs that may be available in order to reduce costs when modifying your home. This way, you can turn your dreams of creating a wheelchair-friendly house into reality.