Home appliances enhance the comfort and design of your home and simplify daily life. And perhaps you may have entertained the idea of upgrading them, either because they're no longer meeting your needs or lack the features you're looking for. Regardless of the case, updating your home appliance requires careful consideration. Moreover, with so many options available, keeping in mind certain things can help ensure you make the best decision for your home.
That said, here are key things to consider when upgrading your home appliances:
1. Determine Your Budget
Determining your budget is one of the most important considerations before upgrading your home appliances. Knowing your budget can help you narrow down your options when choosing which appliance model or brand to get, which prevents you from overspending.
First and foremost, decide how much you're willing to spend on new appliances and consider any additional costs, such as delivery, appliances installation, and removing your old units. To maximize your budget, it can help to watch out for discounts and special offers from appliance stores.
2. Consider The Size And Layout Of Your Home
When upgrading your home appliances, consider the size and layout of your home. You wouldn't want an appliance that's too small or too big for your space.
As a good start, take measurements of the area where you plan to install the appliance and compare them to the dimensions of the new appliance you're considering. Additionally, check and measure the entryways and hallways leading to the room where the appliance will be installed to ensure that it can be easily transported and installed.
Another tip is to consider your space when choosing the design of the appliance. For instance, if you're looking to upgrade your laundry appliances, you may want to consider stackable options to save space. Front-loading machines are also a great option, as they can be installed under the counter or in a closet, freeing up valuable floor space.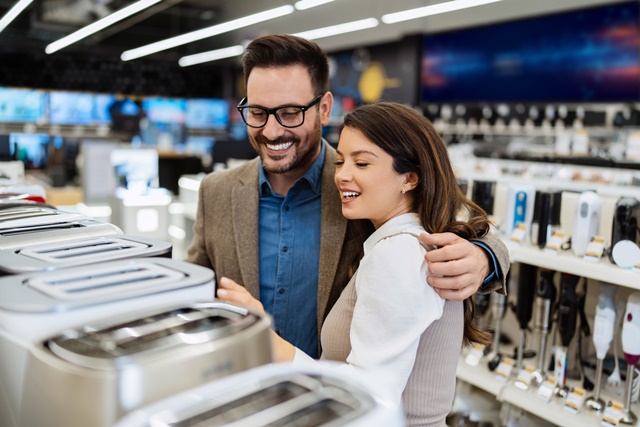 3. Research Energy-Efficient Appliances
Switching to energy-efficient appliances can save you money on your utility bills and help reduce your impact on the environment. It's worth noting that certain appliances, such as refrigerators, air conditioners, and water heaters, tend to consume a lot of energy, so it's important to consider energy-efficient options when upgrading these appliances.
As a good start, look for the ENERGY STAR label, indicating that they're compliant with strict efficiency guidelines set by the Environmental Protection Agency. You can also check the Energy Efficiency Ratio (EER) or Seasonal Energy Efficiency Ratio (SEER) ratings of air conditioning appliances.
Although energy-efficient appliances may be more expensive upfront, the savings on your energy bills can make up for it in the long run. Plus, you'll feel good knowing you're doing your part to help the planet.
4. Think About Your Lifestyle And Needs
Think about your lifestyle and needs when choosing new appliances. For instance, consider the types of food you cook and the cooking frequency, and choose appliances that meet these requirements.
Moreover, if you have a busy schedule, you may want to consider appliances that have programmable features or can be controlled remotely. Or, if you have young children or pets, you may want appliances with safety features such as automatic shut-off. Lastly, consider your personal preferences as well, such as the color and style of the appliances and how they will fit your home's interiors.
5. Research On The Available Appliances
Finally, once you've figured out your appliance needs, your next step is to research your options. Start by browsing the manufacturer's website and online shopping platforms to find appliances that fit your criteria. This can give you a good idea of what's available and what features to look for.
But don't stop at just the product descriptions – take the time to read reviews from other users who have purchased the appliance you're considering. This can provide valuable insights into how the appliance performs in real-life situations and any potential issues that may arise.
Plus, by thoroughly researching your appliance options, you can compare prices from different brands and models to ensure you get the best deal possible.
In Conclusion
Taking the time to carefully consider your appliance needs and budget and researching your options will pay off in the long run. By selecting the right appliances for your household, you'll not only save money on energy bills but also contribute to a more sustainable environment.
With the tips outlined above, you can approach the process of upgrading your home appliances with confidence and ease. So, whether you're looking for a new refrigerator, washing machine, or air conditioner, following these guidelines can help you make an informed decision that meets your needs and budget.