Home renovations can be both exciting and overwhelming. Besides the hard work of choosing colors, fixtures, and flooring, there is much else to consider after a renovation. From budgeting for appliances to evaluating safety protocols, this blog post will provide readers with eight essential things that they should take care of after their home renovation project is complete.
We will examine topics ranging from insurance policies to warranties in order to ensure that all aspects of your home have been taken into consideration so you can enjoy your new space without any worries or concerns. Keep reading to learn more about what should be done immediately following a successful home renovation!
Test all electrical outlets and appliances
This is one of the most important things to do right away after a home renovation. Make sure that all of your electrical outlets are functioning properly and that any new appliances you have installed are in working order. Check for any wiring problems or safety hazards, and if necessary, hire an electrician to help with this task.
Additionally, make sure that all of your new appliances are covered by warranties and read the paperwork associated with them in order to be aware of any potential issues down the road. Keep in mind that many new appliances come with energy-efficient features, so be sure to take advantage of any potential savings.
Deep clean
Despite your best efforts to keep the construction mess contained, dust and debris from a home renovation can find their way into every nook and cranny of your home. Conduct a thorough deep cleaning post-renovation. This should include dusting all surfaces, vacuuming carpets and upholstery, mopping floors, and wiping down walls and windows.
Also, don't forget to clean your HVAC system and replace air filters to ensure good air quality. A deep clean not only brings your home back to its sparkling best but also eliminates any potential health hazards from lingering dust and debris. If you're looking for post construction cleaning in NYC, for example, start by researching local companies in your area. Next, compare service options and prices to find the best fit for your needs.
Make sure not to overlook any areas of your home when doing your post-renovation clean-up, especially spots that may be hard to reach. Consider hiring professionals for this task if you have difficulty getting into some of the tight spaces or if you just don't have enough time.
Check for any plumbing leaks or other water damage
One of the most important things to do after a construction project is to check for any plumbing leaks or water damage. Even with the best planning and execution, things can go wrong, and water damage can cause major problems if not addressed quickly. Water leaks can lead to mold growth, structural damage, and costly repairs.
Therefore, it's crucial to inspect your plumbing thoroughly, from the pipes and fixtures to the water supply and drainage systems, to identify any signs of leaks or water damage. Taking the time to check for these issues can save you time, money, and headaches down the line. Plus, you won't have to worry about any health risks associated with mold growth.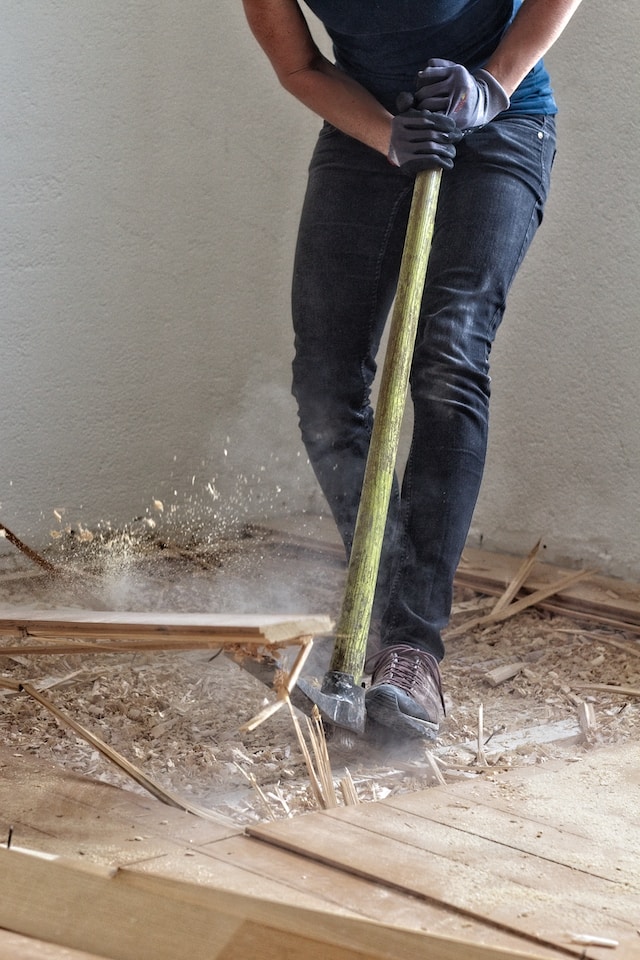 Inspect the structure of the home
After any type of home improvement project, it's essential to inspect the structure of your home in order to ensure that everything is safe and sound. Make sure that all changes or repairs made throughout the renovation process have been completed properly and are up to code. If necessary, hire a professional inspector to assess the structural integrity of the property to make sure there aren't any hidden problems.
In addition, evaluate the insulation of your home. Make sure that any new insulation has been installed correctly and is up to code as well. Proper insulation can help you save energy and money in the long run, so it's important to make sure you have the right amount and type for your location's climate and your needs.
Keep in mind that any structural changes you make to your home, no matter how small, may require a permit. Make sure to check with your local government for the necessary paperwork and requirements before beginning any project.
Conclusion
Taking care of these essential things after a home renovation can ensure that you and your family can enjoy your newly renovated space without any worries. From checking electrical outlets and appliances and deep cleaning your home, to inspecting for any water damage or structural issues, these steps can save you from potential hazards and costly repairs. As a homeowner, your responsibility doesn't end with the completion of the renovation project. Continue to maintain and care for your home to keep it safe, functional, and beautiful for years to come. Let your renovated home be a space of comfort, relaxation, and joy for you and your loved ones.