If you're stuck in a garage rut and your space just isn't inspiring anymore, don't worry! There are plenty of exciting ways to transform your garage into the functional and stylish haven of your dreams. From turning it into an art studio or game room to creating a workbench for all your projects, we've got some fresh ideas that will help spark some creativity and take your garage from mundane to marvelous! Whether you use one idea or mix and match several, with a bit of effort (and some elbow grease) you can have the jazzed-up space you've been wanting in no time. Ready to get started? Let's dive in!
Get a wooden garage
You may not have considered it before, but swapping out your regular garage for a wooden one can make all the difference to the aesthetic of your space. Wooden garages come in a multitude of styles and offer an array of choices that can help create an entirely different atmosphere in your garage. The warm glow and timeless charm offered by wooden garages can be the perfect solution when it comes to improving your garage's look. Plus, they're typically fairly easy to set up and maintain. Whether it's Hansa timber garages, log cabin garages, or even a Dutch barn garage you're after, there's an option to suit your needs. If you're ready to take the plunge, check out pre-made wooden garages that are widely available online.
Install bright, modern lighting to give the garage an up-to-date feel
A garage is a space that can often be overlooked or forgotten. However, by installing bright, modern lighting, you can transform it into a sleek and updated area. Not only will the new lighting give the space a more polished look, but it can also make it a more functional space. By having proper lighting, you can easily see and find items, making it easier to work on projects or even use the space as an additional living area. With various lighting options available, you can choose the perfect lighting to match your personal style and needs. Say goodbye to a dark and dreary garage and hello to a bright and modern space. Choose from a range of options such as LED lights, energy-efficient bulbs, or even track lighting to give your garage an updated look.
Utilize wall space by hanging hooks and tools for easy storage and access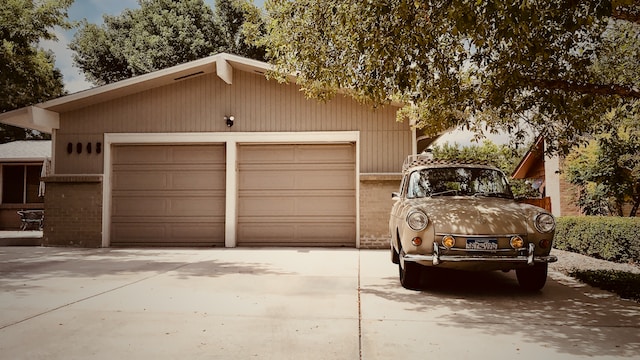 Tired of digging through the clutter of your garage or workshop to find the tool you need? Utilizing wall space by hanging hooks and tools can be a game-changer for organization and accessibility. With hooks and tool holders, you can keep everything in its place and easily locate what you need. Not only does this make your garage more efficient, but it also frees up valuable floor space, making your area safer and more functional. Whether you're looking to store your car or are a DIY enthusiast, maximizing your storage options will help you get the job done right. So, stop tripping over scattered tools and start utilizing your wall space for easy storage and access.
Place a rug or carpet on the floor to create a comfortable work area
Working on the floor of a garage can be uncomfortable and uninviting. But with the addition of a carpet or rug, you can instantly transform your space into an inviting and cozy work area. Not only will this make working in your garage more enjoyable, but it will also help create an aesthetically pleasing look. Whether it's bright colors to liven up the room or a durable outdoor rug to protect the floor, there is a variety of options available. If you want to give your garage an upgrade without breaking the bank, rugs, and carpets are an easy and affordable way to do so. Don't be afraid to try something new and make your garage a comfortable place to work in! In addition to adding comfort, a rug or carpet can even help reduce noise from tools and other items.
After implementing these changes to your garage, you'll have an inviting and useful space that can be used for storage, recreational activities, and work. With the right layout and decor, your garage can be just as stylish and convenient as any other room in your home. Not only will it look great, but its contents will also be organized in such a way that everyone will know what they're looking for right away. You may be surprised by how much more enjoyable it is to work on projects or simply relax in the new and improved garage space! So go ahead: get creative and upgrade your next "Man cave"!