Imagine waking up every morning in your dream luxury home, surrounded by opulence and comfort. The idea of finding the perfect luxury home can be exciting, but it can also feel overwhelming. With so many options and considerations, where do you begin? This guide will explore the steps to finding your dream luxury home and turning it into a reality.
Determine Your Needs and Preferences
The first step in finding your dream luxury home is to determine your needs and preferences. Take some time to assess your lifestyle and desired amenities. Do you want a home with a swimming pool, a home theater, or a large backyard? Consider the number of bedrooms and bathrooms you require and any specific architectural styles that appeal to you. Additionally, think about location and neighborhood preferences. Do you want to be close to schools, shopping centers, or cultural attractions? Another essential consideration is location. Consider factors such as proximity to top-rated schools, fine dining establishments, cultural attractions, and breathtaking views. By clarifying your needs and preferences, you can focus your search on properties that align with your vision.
Set Your Budget
Luxury homes come with a hefty price tag, so setting a realistic budget is essential. Evaluate your financial situation and determine how much you can comfortably afford to spend on a luxury property. Take into account factors such as your income, savings, and any existing debts or financial commitments. It's also important to consider the ongoing costs associated with maintaining a luxury home, such as property taxes, insurance, and maintenance expenses. By setting a budget, you can narrow down your options and avoid falling in love with a property that is outside of your financial reach.
Research the Market
Next, it's time to research the real estate market. Explore different markets and identify top luxury home neighborhoods or cities that meet your criteria. Look for areas that have a strong luxury residential real estate market, with a range of properties available for sale. Consider factors such as price trends, market stability, and potential for future growth. It's also beneficial to research local amenities, such as schools, healthcare facilities, and recreational options, as these can greatly enhance your lifestyle in a luxury home.
Engage a Real Estate Agent
Navigating the luxury real estate market can be complex and time-consuming. That's why it's crucial to engage a real estate agent who specializes in luxury properties. A reputable agent with experience in the luxury market will have access to exclusive listings and market insights. They can save you time by pre-screening properties and arranging viewings that meet your specific criteria. When selecting an agent, look for someone who understands your needs and preferences and has a proven track record of success in the luxury real estate market.
Visit Potential Luxury Homes
Once you've engaged a real estate agent, it's time to start visiting potential luxury homes. Schedule home tours with your agent and pay close attention to details and features that align with your preferences. Take note of the quality of construction, craftsmanship, and finishes. Consider factors such as natural light, layout, and flow of the property. It's important to visualize yourself living in the space and assess whether it meets your lifestyle requirements. Don't be afraid to ask questions and request additional information or documentation about the property.
Conduct Due Diligence
Before making an offer on a luxury home, it's essential to conduct due diligence. Hire a home inspector to assess the property for any potential issues or concerns. They can identify structural problems, electrical and plumbing issues, and other hidden defects. Additionally, research any legal or zoning issues that may affect the property. Ensure that all necessary permits and approvals are in place, and check if there are any pending lawsuits or disputes related to the property. By conducting due diligence, you can make an informed decision and avoid unforeseen future surprises.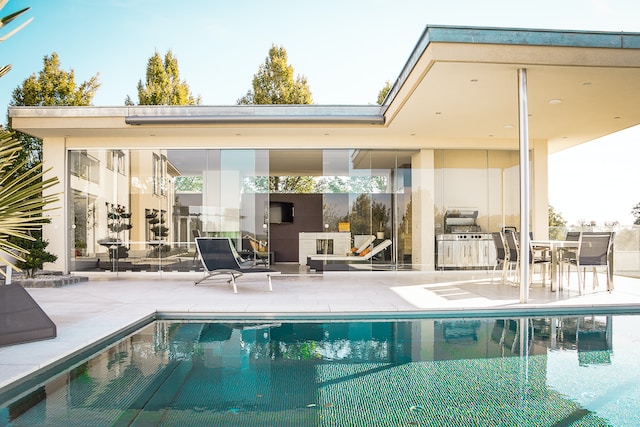 Make an Offer and Negotiate
Once you've found the perfect luxury home, it's time to make an offer. Understand the property's market value by analyzing comparable sales in the area. Your real estate agent can help you determine a fair and competitive offer price. It's also important to be prepared for negotiation. Sellers of luxury homes may have higher expectations, so be ready to negotiate on price, contingencies, and closing timelines. Work closely with your real estate agent to develop a winning negotiation strategy that aligns with your goals.
Secure Financing
Securing financing for a luxury home can be more complex than obtaining a mortgage for a standard property. Explore mortgage options specifically designed for luxury homes and work with a lender who specializes in this niche. Be prepared to provide extensive documentation related to your income, assets, and liabilities. The lender will assess your financial profile and determine the amount they are willing to lend. Getting pre-approved for a loan is essential before making an offer on a luxury home, as this will strengthen your position as a buyer.
Close the Deal
Once your offer has been accepted, it's time to close the deal. Finalize the paperwork and legal requirements associated with the purchase of your luxury home. This includes reviewing and signing the purchase agreement, coordinating with your lender for the mortgage documents, and conducting a final walkthrough of the property to ensure everything is in order. Working closely with your real estate agent and attorney is important to ensure a smooth and successful closing process.
Finding your dream luxury home is an exciting journey that requires careful planning and consideration. By determining your needs and preferences, setting a budget, researching the market, engaging a real estate agent, visiting potential homes, conducting due diligence, making an offer, securing financing, and closing the deal, you can turn your dream into a reality. Remember to enjoy the process and celebrate your success once you find and settle into your perfect luxury home. Cheers to a life of opulence and comfort!