Having a reliable working surface in a production facility is essential for achieving smooth operational flow and the desired level of quality. Whether it's protective coatings to protect floors from damage caused by heavy machinery or ESD flooring to prevent static build-up, having the right kind of production flooring allows manufacturers to keep their production lines running at full capacity with minimal problems. But what exactly makes up a properly functioning production floor? We'll answer that question right below, all while showing you how to create an ideal environment for productive manufacturing operations.
Understand the types of working surfaces
Different applications within a production facility require various types of working surfaces. For instance, an assembly line handling electronics might need ESD flooring to prevent static electricity build-up, which can damage sensitive components. On the other hand, a heavy machinery workstation may require a working surface with high durability and resistance to withstand the stress of constant heavy loads. For those who want to implement eco-friendly coating solutions, epoxy flooring is an excellent choice that can reduce waste and contribute to a more sustainable business model. At the end of the day, it's important to choose a working surface that best suits the needs of your production facility.
Select the materials that best suit your production needs
The selection of materials for your working surface goes hand in hand with understanding the types of surfaces required. Materials should be chosen for their durability, resistance, safety features, and ease of maintenance. Here are some options you might want to consider:
Epoxy Flooring: This is a great choice for eco-friendly operations looking for non-toxic and low volatile organic compounds (VOCs) flooring that offers high durability and chemical resistance.
Urethane Coating: If you're looking for an option that combines protection against abrasion, corrosion, UV exposure, and extreme temperatures, then urethane coating is probably the best option for your working surface.
ESD Flooring: This type of flooring offers protection against static electricity build-up and is suitable for production facilities that handle sensitive electronic components.
Choose a reliable vendor
Choosing a reliable vendor is a significant part of establishing a functional production floor. Although this isn't certainly an easy task, there are a few factors to keep in mind before you make your final choice.
Experience: It's always a good idea to choose a vendor with experience in the type of production flooring you need. This will ensure that they understand all the technical aspects of the product, as well as any safety and maintenance requirements.
Warranty: A warranty is an essential part of choosing your production flooring supplier. Make sure you ask about the warranty period and coverage before you make your decision.
Cost: Of course, cost is an important factor to consider when selecting a vendor for your production flooring needs. Look for suppliers that offer competitive prices without compromising on quality.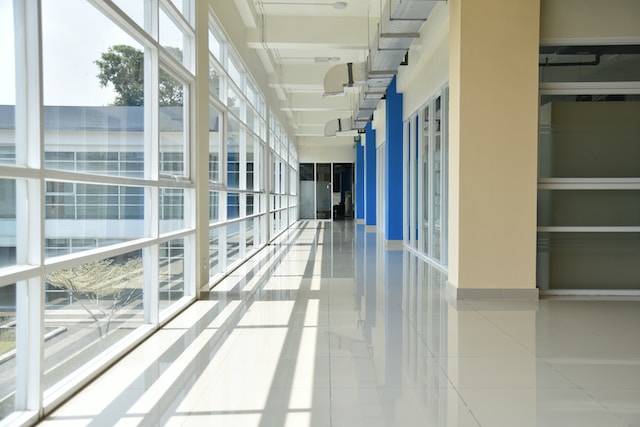 Move Onto the Installation Process
Now that you've chosen the right flooring materials and a reliable vendor, it's time to begin the installation process. This is a job best left to experienced professionals, as it requires expertise and specialized tools to be done correctly. It also saves time and money in the long run, as any mistakes made during installation can lead to costly repairs. So make sure to hire a professional contractor and provide them with detailed instructions on what needs to be done.
Understand the importance of proper maintenance
Once you've painstakingly selected and installed the best flooring options for your production facility, it's equally important to ensure regular maintenance and cleaning. This prolongs the lifespan of your flooring and keeps it in optimal condition, reducing the risk of accidents and damage.
A well-maintained floor also contributes to a cleaner and more efficient working environment. Depending upon the type of flooring and the nature of production activity, a preventive maintenance schedule should be established, including routine cleaning, the application of protective coatings as needed, and periodic inspections for wear and tear. By doing so, you can mitigate any potential issues before they escalate, ensuring the longevity and reliability of your production floor.
Consider the safety aspects when setting up a work surface
Safety should never be an afterthought when setting up a work surface in a production facility. The floor should be designed to reduce the risk of slips, trips, and falls, arguably the most common type of accidents in a manufacturing environment. This involves selecting flooring materials with non-slip properties and marking walkways clearly. Additionally, any potential hazards such as cables or equipment should be well organized or placed in designated areas. Adopting ergonomic design principles can also reduce the risk of work-related injuries and boost productivity.
Keep in mind that a safe work environment is a regulatory requirement and a cornerstone of a successful and efficient production facility.
Install conveyor systems or pallet jacks
To enhance productivity and efficiency in material handling within your production facility, consider installing conveyor systems or implementing the use of pallet jacks.
Conveyor systems can dramatically reduce manual labor, streamline processes, and speed up production times. They can be customized to suit the specific needs of your operation, whether it's moving heavy goods or transporting small components across different sections of the facility.
Pallet jacks, on the other hand, are ideal for moving heavy or bulky items short distances. They are easy to maneuver, require little maintenance, and can significantly reduce the risk of injuries associated with heavy lifting. Ultimately, the choice between conveyor systems and pallet jacks will depend on the specific needs and scale of your manufacturing operations.
Establishing a productive and safe work surface in a production facility requires careful planning and execution. Selecting the right materials that can withstand the rigors of your operation, choosing a reliable vendor, correctly installing the chosen materials, and subsequently maintaining them are all integral to this process.
Plus, implementing safety measures and efficient systems such as conveyors or pallet jacks only enhances the functionality of your production facility. Remember: a well-managed production floor not only fosters operational efficiency but also promotes a safer, more effective working environment for your workforce.