There are many reasons to embark on home renovations, and many ways to go about it. Depending on your reasons for renovating, and your desired outcomes, your approach may differ; for example, making changes for yourself v's for the purpose of selling or renting a property out will likely result in differing budgets and finishes.
Whatever your reasons for renovating, it's essential to tackle the project with a clear, well-thought-out plan, a realistic budget, and contingencies in place for unexpected hurdles.
Is it time for some home renovations?
It can sometimes be tricky to commit to the idea of renovations. In the absence of any urgent repair requirements, for example, it can be hard to justify the work and cost involved. In deciding whether to renovate, it helps to get clear on what your goals are. These could be:
Maximizing resale value potential: when considering renovations for the purpose of increasing resale value, do your research before you make any moves. The condition and values of houses in your neighborhood will help you to gauge how far it makes sense to take your renovation ideas.
Renting the house out: if you're thinking of renting your house out, it makes sense to make improvements that will attract good tenants and a higher rental price. Again it's just a question of making strategic decisions based on relevant research to avoid sinking more money into renovations than you can justify, given your investment returns. That said, there are some items that cannot and should not be avoided, such as prioritizing security features like security door locks, PTZ security cameras, or alarm systems for future tenants.
Modifications based on family needs: when renovating based on family needs (more room for a growing family, alterations to make caregiving easier, transitioning to working from home, etc.), think your plans through thoroughly to ensure that you are catering to current needs without making other aspects of the homeless practical.
General updating: sometimes homes simply need a bit of a revamp and some TLC to breathe new life into them and keep them functioning well. This could mean redecorations, replacing windows and doors, focusing on improving energy efficiency, replacing plumbing or electrical systems, etc. It's also important to always maintain your home's privacy especially when you spend a lot of time with your family in your backyard having a barbecue. Check your fence if it needs maintenance or you could just replace them with decorative privacy panels if you want to save some time and budget on maintenance. Sooner or later, these kinds of renovations are unavoidable to keep a home comfortable, presentable, and safe.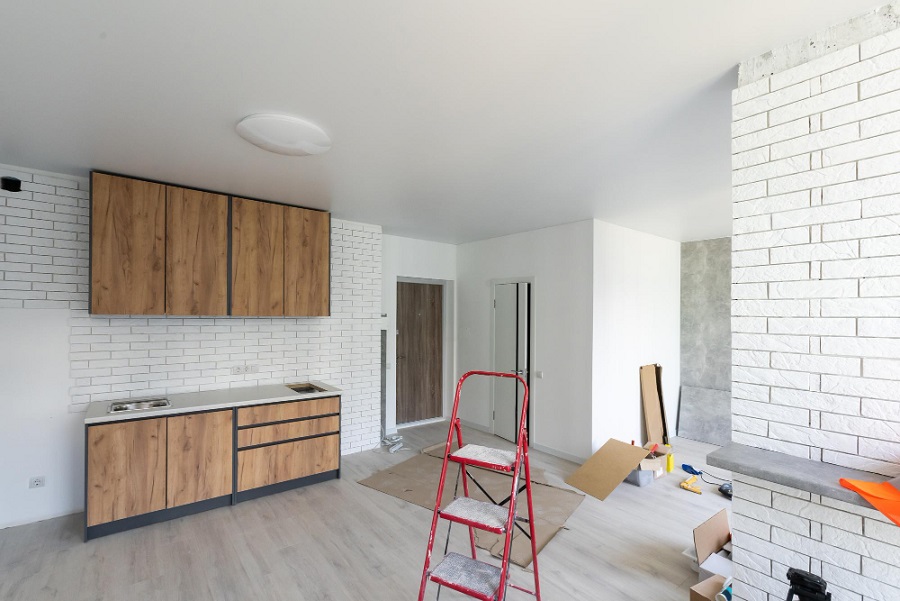 Will I need a permit?
It may seem strange to consider that a permit may be a requirement to carry out renovations in your own home, but some changes do require a building permit nonetheless, and failing to get one is a potentially costly risk you shouldn't take. Permits are designed to ensure that your improvements meet local building codes, as well as fire and structural safety regulations and more.
Failing to get a required permit can result in being ordered to stop the work, fined, and in some cases, forced to undo the work already carried out. It can also render your home insurance void. It's just not worth the risk.
Some examples of renovations that typically require a permit include:
Adding decks
Erecting fences
New roofs
Sheds and outbuildings
Extensions, such as extra rooms or sunrooms
Basement Remodeling
Converting a garage into a living space
Installing a new fireplace/furnace, HVAC system, water heater, etc.
Each state (and city/region) has different rules regarding the requirement of home renovation permits, so it's essential to check with your local building department to get the low down on what's expected of you.
Home renovation projects that typically do not require permits include:
New flooring
Redecorating – painting/wallpapering, tiling, etc.
Driveway repaving
Replacing cabinets, countertops, toilets, sinks, etc.
Replacing windows and doors
It's important to note that some jurisdictions will be far stricter than others on these points, especially when dealing with a home of any Historical importance, so do your research before diving in.
Obtaining a home renovation permit
If you engage a contractor, they will typically handle the permit requirements on your behalf. Otherwise, you will need to obtain your own permits, which thankfully is a fairly straightforward process, including:
Completing the required paperwork: be thorough and expect that an inspector will want to visit your home to check that the changes will still meet all necessary codes.
Paying the fee: depending on your location and the extent of your renovation plans, this fee can be anything from around $50 to several hundred dollars for more major works.
Waiting patiently and following up: it can take days or weeks for your application to be reviewed and for an inspector to attend if necessary. You can request an indication of the timeframe when you submit your application. If it drags on longer, or if you receive a rejection, you can request the reasons, make the necessary changes and reapply as many times as you need to.
How much will my home renovations cost?
Renovations are notorious for going over budget, as they typically come up against more unexpected hurdles than new builds, for example.
The costs involved in renovation projects can obviously differ dramatically depending on the scope of the work, the quality of the materials used, and in some cases, your location in terms of labor costs, etc.
There are many novel ways to cut down on renovation costs. For example, modernizing a kitchen can be achieved by retiling, replacing handles and countertops, etc., instead of ripping out the entire kitchen and starting from scratch. If you're on a tight budget, take the time to think outside the box as to what's possible, and look to online platforms like Pinterest for a plethora of inspired DIY ideas.
When estimating your renovation costs, make sure to:
Include incidental costs, such as accommodation costs if you're ripping out the only bathroom, for example, and even down to extra takeout costs while living amidst any likely chaos
Add a contingency percentage (20% is recommended) to cover any unforeseeable complications 
Track your budgeting closely as you go to avoid running out of funds before the completion
Preparation is key
The more organized you are, the smoother the renovation process should be. Do your research, make decisions with your head and not just your heart, obtain the necessary permits, engage with reputable contractors, and approach the project in as systematic a way as you can. Declutter, break the project down into stages, and have contingency plans in place; whatever you can to make the process run smoothly and feel entirely worth it.