Are you looking for a way to free up some extra room in your house but don't want the clutter relegating itself outdoors? Self storage could be right for you. But before diving head first into renting a self storage unit, it's important to know exactly what you're getting yourself into and how the process works. Here's all that you need to know before signing on that dotted line when considering renting a self storage unit—from start to finish!
Evaluate your storage needs
When it comes to storing our belongings, it's important to evaluate our storage needs to ensure that we have a space that fits our unique requirements. Before deciding on a storage solution, it's crucial to consider what types of items we plan to store, how big they are, and what security measures might be necessary to protect them. Whether it's furniture, household goods, or important documents, having a clear understanding of our storage needs can help us select a space that is both practical and secure. By taking the time to evaluate our requirements, we can feel confident that our belongings will be safe and well-maintained in our chosen storage unit.
Research different self storage options in your area and compare prices
When it comes to finding adequate storage for your belongings, it can be overwhelming to navigate through the numerous options available in your area. However, with a little bit of research, you can find the perfect self storage solution that fits your needs and budget. By comparing prices between different options, you can ensure that you are getting the most bang for your buck while also keeping your items safe and secure. So take the time to explore your options and find the self storage facility that works best for you.
Consider climate-controlled units for temperature-sensitive items
As the saying goes, a picture is worth a thousand words. When it comes to preserving precious memories captured in photographs, protecting them from the elements is crucial. The same goes for temperature-sensitive electronics that play a vital role in our daily lives. Using climate-controlled units ensures that your valuable possessions are kept at a consistent temperature, free from damaging fluctuations in temperature and humidity. Investing in climate-controlled units is an investment in the longevity of your cherished belongings, giving you peace of mind and the assurance that they will be preserved for future generations to enjoy.
Think about what type of access you need and if there will be limited hours or any restrictions
When it comes to storing items in self storage, it's important to consider what type of access you need and if there will be any restrictions or limited hours. Some facilities may have restricted access at certain times, while others may offer 24-hour access so that you can pick up your belongings whenever you need them. Depending on the duration of your storage needs, it's crucial to choose a facility that meets your access requirements and provides the flexibility you need to get in and out of your unit hassle-free.
Take a look at insurance options
Understanding and investing in self storage insurance is a critical step in safeguarding your valuables. It's important to know that self storage insurance provides coverage for your belongings against potential risks such as theft, fire, or natural disasters. While some storage facilities may offer their own insurance plans, it's also worth checking with your homeowner's or renter's insurance policy as it may already include coverage for items stored off-premises. Always make sure to thoroughly read and understand the terms of any insurance policy before deciding on the coverage that best suits your needs. This way, you can ensure that in the event of an unfortunate incident, your stored items are financially protected.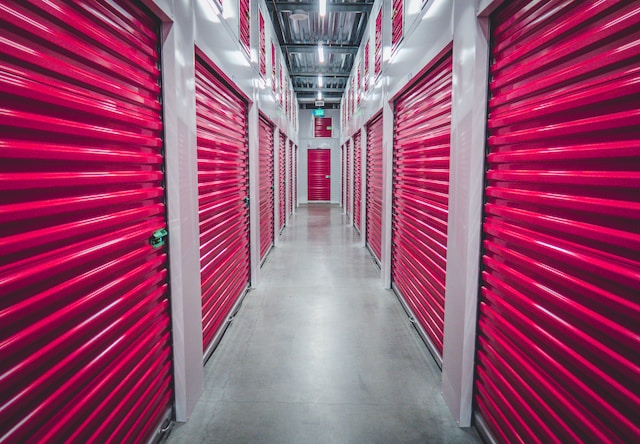 Ask for a tour of the facility to check out the security features, such as cameras and locks
Asking for a tour of a facility to check out the security features is a smart move. It not only gives you peace of mind but also lets you see firsthand how seriously the facility takes its security measures. From cameras to locks, taking note of the security features helps you assess the level of risk you may be willing to take. So, don't hesitate to ask for a tour before committing to a particular facility. You and your valuables deserve the extra attention to security that only a well-secured facility can provide.
Make sure to read the contract thoroughly before signing anything
Before you put pen to paper on a contract, it's essential to read the document thoroughly. Although it may seem time-consuming, it's crucial to understand the terms and conditions involved in the agreement. Contracts often include complex jargon that's difficult to comprehend, but don't let that discourage you. Take the time to read it slowly, take notes and flag anything you're unsure about. Once you sign on the dotted line, you'll be bound by the clauses in the contract, so don't rush into anything. By being diligent and taking your time to read the agreement, you'll ensure that you're fully aware of what you're signing up for. Furthermore, don't forget to keep a copy of the contract for your records.
Conclusion
Acquiring a self storage unit is not an impulsive decision but an involved process that requires detailed consideration. From accurately evaluating your storage needs to exploring various options, and from considering climate-controlled units to understanding the access type, every step plays a pivotal role in ensuring that your items are stored safely and securely. The significance of obtaining insurance and inspecting the security measures cannot be overstated, as these factors offer an added layer of protection to your valuable possessions.
By thoroughly understanding the terms of the contract, you are setting clear expectations and avoiding potential misunderstandings in the future. The process might seem overwhelming at first, but by breaking it down into these manageable steps, it becomes much more approachable.
Remember, the ultimate goal is to find a self storage unit that not only fits your storage needs but also gives you peace of mind knowing that your possessions are in safe hands. Finding the right self storage unit is not just about creating extra space but about creating a safe space for your belongings when you cannot accommodate them in your own home. Therefore, the precautions, research, and considerations involved in this process are not burdensome but essential steps towards securing your valuable possessions in the most effective way.